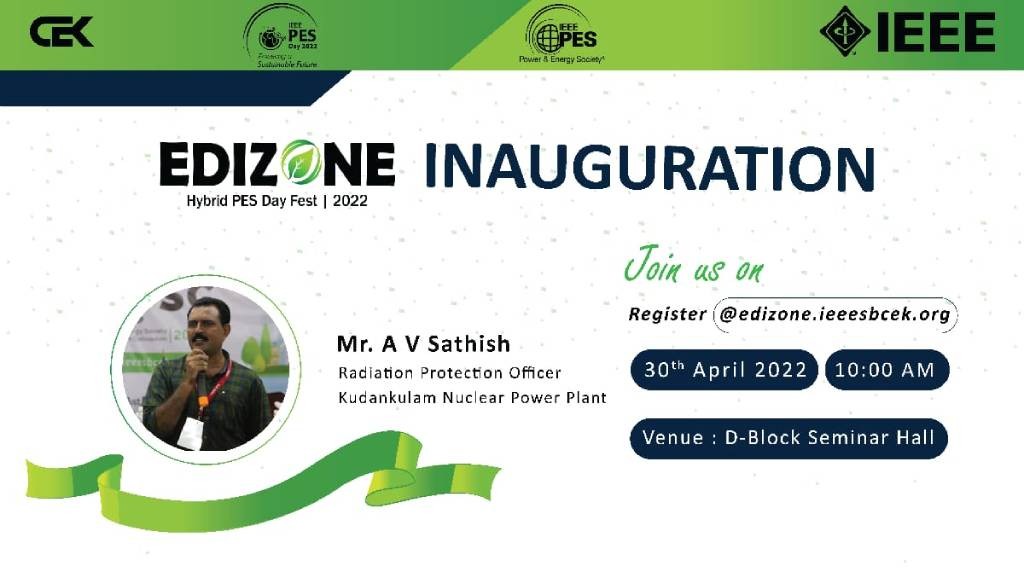 PES DAY 2022: Edizone 3.0
IEEE Student Branch College of Engineering Karunagappally and IEEE PES SBC CEK organized the third edition of the hybrid PES Day Fest, EDIZONE 3.0, as part of the PES Day Celebrations 2022 with the theme of "Powering a Sustainable Future". The event aimed at the empowerment of students in the technical field. It was packed with various technical sessions, workshops, and other competitions which would pave a way for the students to win exciting prizes.
A total of 10 events were organized as part of Edizone 3.0 which included a variety of competitions, the results of which were published, and the winners were awarded cash prize.
The events conducted as part of EDIZONE 3.0 are listed below:
1. Edizone 3.0 Inauguration: Chief Guest Mr. A V Sathish Date: 22nd April 2022
2. Session on Nuclear Power Date: 22nd April 2022
3. Panel Discussion 30th April 2022
4. Session on Electric Vehicles 07th May 2022
5. Women in Power Track
6. Workshop on Introduction to Graphic Design Date: 01st June 2022
7. Quiz & Aptitude
8. Date 05th June 2022
9. Article Writing Competition
10. Logo Designing Competition
11. Idea Pitching Competition